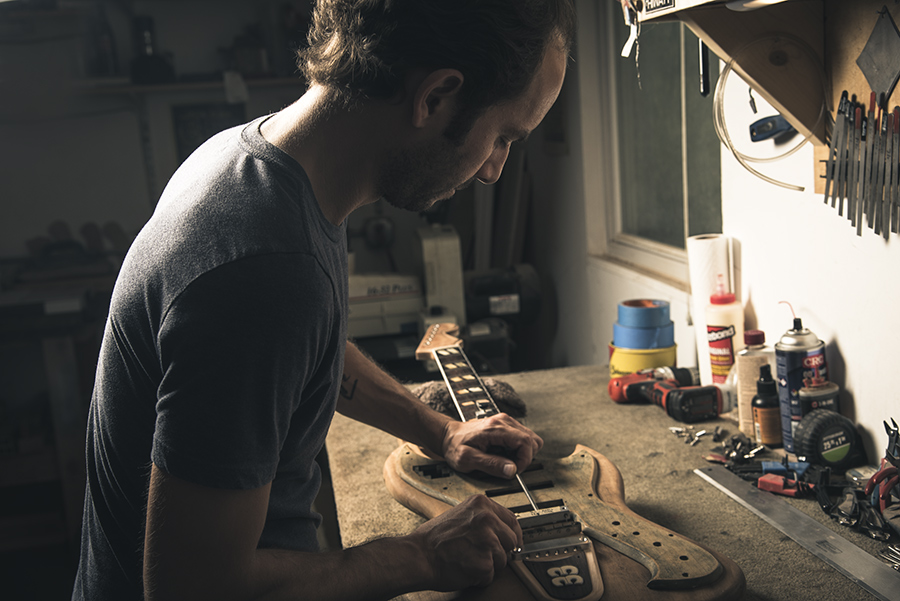 Scale Model Guitars founder Dave Johnson was born and raised in Peoria, IL. After receiving his BA in economics from Eastern Illinois University he worked in finance for a brief time before realizing his passion for musical instrument repair and construction. Mostly self-taught from working in various music stores, he eventually managed the repair shop at Avenue N Guitars in the north side of Chicago. In 2009, Dave moved to Nashville and worked in the Gruhn Guitars repair department until early 2014 and as an in-house repair tech at Carter Vintage Guitars. Highly skilled in vintage repair and with over twenty years of experience, he is quickly earning a reputation as one of the most trusted names in town.
Dave shares a common philosophy with the most skilled of guitar technicians - learning NEVER stops and anyone who believes they are an "expert" or "master" is likely neither.
---
Interviews and articles/print media
Fretboard Journal, #43 2018, pg. 30. "Jail Break" - Billy Strings prison guitar restoration
Premier Guitar, October 2018, pg. 34. "Rig Rundown w/ Pelican"
Guitar Player Magazine, Feb 2013, pg. 30. "Now Hear This"
American Songwriter Magazine, Jan/Feb 2013, pg. 72. "Gruhn Guitars, Nashville's Guitar Nirvana"
American Songwriter Magazine, July/Aug 2012, pg. 42. "Nashville Garage, JEFF the Brotherhood"
Premier Guitar Magazine, Dec 2012, pg. 24. "Opening Notes"
Guitarist Magazine (UK), March 2010, pg. 60. "Revolution Rock"
---
Technical articles/online media
Premiere Guitar - DIY: How to Level, Crown & Dress Frets on Your Guitar - Watch on YoutTube
Premiere Guitar - DIY: Replacing Strat Single-Coils with Humbuckers - Watch on YouTube